WNRT-633 - 300Mbps 802.11n Wireless Gigabit Broadband Router
Overview
Multiple Wireless Network Technologies for Greater Access
Offering an instant network and flexibility for users to handle network expansion and speed, PLANET WNRT-633 Wireless Gigabit Router is a total solution to the Home, Hotspot and the SOHO users. It offers 300Mbps wireless speed and multiple operation modes in which Gigabit LAN and WAN greatly increase client mobility and speed within a network. By installing the WNRT-633 as the central connection point of the network, the connected computers and mobile devices are able to share the high-speed broadband Internet connectivity and networked server. With the four built-in 10/100/1000Base-T LAN ports, it is easy to integrate the wireless devices into the existing wired network.

Gigabit LAN Throughput Boosts Network Traffic
Gigabit Ethernet is the perfect solution for one of the major requirements of today's Local Area Networks: improving communication speed. With throughput up to 10 times that of the existing 100Mbps solutions, the WNRT-633 fully employs the full functionality of the 802.11n wireless standards, eliminating the bottleneck of the transmission speed of the Megabit wired type. Using the WNRT-633 to connect your desktop, NAS, media player and game console guarantees extremely high throughput and excellent signal quality.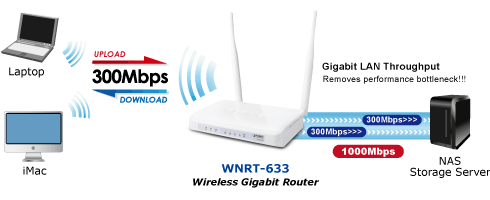 High-Speed 802.11n Wireless Type
The WNRT-633 features the latest IEEE 802.11n radio with 2T2R MIMO antenna technology to provide improved wireless speed and coverage with up to 300Mbps upload and download data rate. The incredible wireless speed makes it ideal for stably handling multiple HD movies stream, high resolution on-line game, stereo music, VoIP and data streams at the same time. It is also backward compliant with 802.11g and 802.11b standards; thus, it is no need to change the existing network for convenient maintenance. Just connect to the WNRT-633 and users can immediately enjoy the high-speed wireless sharing.

Wireless Coverage Plus !
The WNRT-633 is equipped with 5dBi High-Gain antennas to provide strong signal and excellent performance even in the long range or bad environment. With detachable RP-SMA connector design in the WNRT-633, it allows users to manually exchange higher gain antenna for farther wireless coverage range.

Easy Setup for Multiple Wireless Modes
The WNRT-633 supports multiple wireless modes including Gateway, Bridge, Repeater and WISP (Wireless Internet Service Provider), for different network applications. Furthermore, with the built-in Wizard Setup function, users can configure the WNRT-633 easily and quickly through a couple of simple steps. It is so easy to apply the WNRT-633 to the existing wired network. The WNRT-633 definitely provides a total network solution for the home and the SOHO users.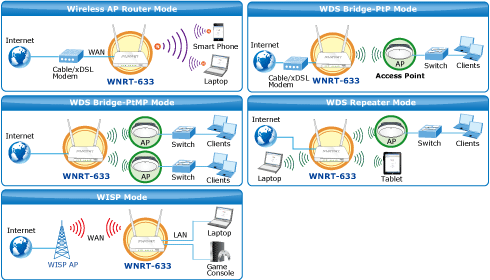 Wide Range of Wireless Security Supports
To secure the wireless communication, the WNRT-633 supports most up-to-date encryptions including WPA/WPA2-PSK with TKIP/AES. Made to fulfill enterprise and various applications demand, the WNRT-633 enhances security and management features such as multiple SSID. It can create up to 5 virtual standalone APs with 5 different SSIDs according to individual security levels and encryption scheme of various wireless devices.

Secure Wireless Access Control
The built-in "Wireless Schedule" helps you to automatically enable or disable the wireless function of the WNRT-633 during specified week day or specific time intervals of a day based on your pre-defined schedule rule. This feature is often used for restricting wireless access to all users, such as children, guests or unexpected intruders, during specific times of the day for parental control or security reasons. Moreover, under the trend of energy saving worldwide and contributing to environmental protection, the wireless schedule can effectively save power via wireless disable. It is a great function to help home and SOHO users save power and money.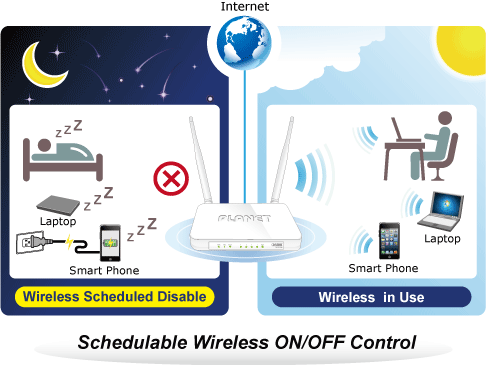 One-touch Secure Wireless Connection
n order to simplify security settings for home and SOHO networks, the WNRT-633 supports Wi-Fi Protected Setup (WPS) with configuration in PBC and PIN type. Just push the WPS button or key-in the PIN code, the secure connection between the WNRT-633 and the wireless clients can be built immediately, which offers users a convenient and fast method to build a secure wireless network.
Powerful Firewall and Complete Access Control Functions
The WNRT-633 supports NAT functions and allows multiple users to access Internet via only one single legal IP. It provides Port Forwarding and DMZ for LAN PC to act as an application server. Furthermore, the advanced firewall by the WNRT-633 can protect your Intranet clients from unauthorized accesses and various DoS attacks from the Internet. In respect of the firewall, the WNRT-633 provides IP / MAC / URL filtering, and prevents possible hackers attack.

Reduce Power Consumption Up to 50%
The WNRT-633 consumes less power when comparing to the existing wireless Gigabit router. Moreover, when there is no wired or wireless Ethernet link, the WNRT-633 will automatically switch to the "Power-saving" mode that would reduce energy wasting by over 50%*.
*Actual data will vary depending on the network conditions and environmental factors.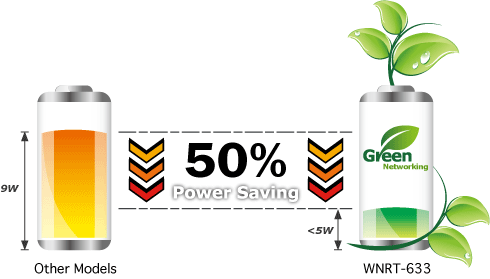 Features
IEEE Compliant Wireless LAN & Wired LAN

Compliant with IEEE 802.11n wireless technology capable of up to 300Mbps data rate
Backward compatible with 802.11b/g standard
Equipped with all Gigabit RJ-45 ports (10/100/1000Mbps) like 1 WAN and 4 LAN ports
Auto MDI/MDI-X supported
Fixed-network Broadband Router

Supported Internet types: Dynamic IP/ Static IP/ PPPoE/ L2TP/ PPTP
Supports Static & Dynamic (RIP1 and 2) Routing
Supports IP / MAC-based Bandwidth Control
Supports 802.1d STP & IGMP Proxy
Secure Network Connection

One-touch Wi-Fi Protected Setup (WPS)
Advanced security: 64-/128-bit WEP, WPA/WPA2 and WPA-PSK/WPA2-PSK (TKIP/AES encryption) and 802.1x Authentication
Built-in NAT firewall is featured with Port/ IP/ MAC/ URL Filtering, and DoS protection
Supports Multiple-SSID to allow users to access different networks through a single AP
Advanced Networking Function for Specific Application

Supports multiple sessions IPSec, L2TP, PPTP, and IPv6 VPN pass-through
Supports Port Forwarding, DMZ, UPnP and Dynamic DNS for various networking applications
Supports DHCP Server
Easy Installation & Management

User Friendly Web-based UI and setup Wizard for easy configuration
Remote Management allows configuration from a remote site
System status monitoring includes DHCP Client List and System Log
Applications
Multiple Applications, Faster Speed than 802.11g WLAN
All the Gigabit Ethernet ports of the WNRT-633 offer ultra-fast, wired connections as well. With IEEE 802.11n technology compliant with 802.11b/g standard, the WNRT-633 provides a better wireless signal, higher data rate and performance than 802.11g compliant routers. With outstanding stability on high-speed wireless transmission, the WNRT-633 can provide users with excellent experience of multimedia streaming with your mobile devices anywhere, anytime. Furthermore, the WNRT-633 features the latest security and firewall functions to prevent unauthorized access or invasion.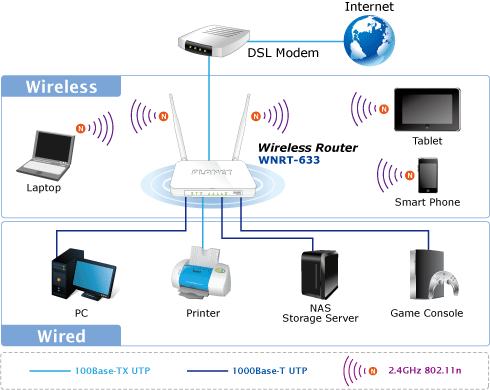 Specifications
Hardware Specifications
Interface
WAN: 1 x 10/100/1000Mbps Auto MDI/MDI-X RJ45 port
LAN: 4 x 10/100/1000Mbps Auto MDI/MDI-X RJ45 port
Wireless: 2 x detachable RP-SMA Connector
Antenna
Gain: 2 x 5dBi antenna
Orientation: Omni-directional
WPS / Reset Button
Reset / WPS button at rear panel
 ■ Press for about 7 seconds to reset the device to factory default.
 ■ Press for 1 second to activate WPS function.
LED Indicators
PWR, WPS, WLAN, WAN/LAN with green light
Material
Plastic
Dimensions (W x D x H)
154 x 106 x 27 mm (without antenna)
154 x 136 x 27 mm (with antenna)
Weight
212g
Power Requirements
DC 12V , 0.7A maximum
Power Adapter
AC Input: 100~240V AC (50/60Hz)
DC Output: 12V, 1A
Wireless Interface Specifications
Standard
Compliance with IEEE 802.11b/g/n
Frequency Band
2.4~2.4835GHz
Extended Frequency
DSSS
Modulation Type
DBPSK, DQPSK, QPSK, CCK and OFDM (BPSK/QPSK/16-QAM/ 64-QAM)
Data Transmission Rates

| | |
| --- | --- |
| 802.11n(40MHz): | 270/243/216/162/108/81/54/27Mbps |
| | 135/121.5/108/81/54/40.5/27/13.5Mbps (Dynamic) |
| 802.11n(20MHz): | 130/117/104/78/52/39/26/13Mbps |
| | 65/58.5/52/39/26/19.5/13/6.5Mbps (Dynamic) |

802.11g:54/48/36/24/18/12/9/6Mbps (Dynamic)
802.11b:11/5.5/2/1Mbps (Dynamic)
Transmission Distance
Indoor up to 100m
outdoor up to 300m (it is limited to the environment)

Channel
America/ FCC: 2.412~2.462GHz (11 Channels)
Europe/ ETSI: 2.412~2.472GHz (13 Channels)
Japan/ TELEC: 2.412~2.484GHz (14 Channels)
Max. RF Power
20 dBm max. (EIRP)
Receive Sensitivity
270M: -68dBm@10% PER
130M: -68dBm@10% PER
54M: -68dBm@10% PER
11M: -85dBm@8% PER
Wireless Management Features
Operation Mode
 ■ Gateway (default)
 ■ Bridge
 ■ WSP
Wireless Mode
 ■ AP
 ■ WDS
 ■ Repeater (WDS+AP)
 ■ Universal Repeater (AP+Client)
Encryption Security
 ■ WEP (64/128-bit) encryption security
 ■ WPA-Enterprise / WPA2-Enterprise (TKIP/AES)
 ■ WPA-Personal / WPA2-Personal (TKIP/AES)
 ■ 802.1x Authentication
Wireless Security
Provides wireless LAN ACL (Access Control List) filtering
Wireless MAC address filtering
Supports WPS (Wi-Fi Protected Setup)
Enables/Disables SSID Broadcast
Wireless Advanced
WMM(Wi-Fi Multimedia): 802.11e Wireless QoS
IAPP(Inter Access Point Protocol): 802.11f Wireless Roaming
Provides Wireless Statistics
Router Features
Internet Connection Type
Shares data and Internet access for users, supporting the following internet accesses:
 ■ PPPoE
 ■ Dynamic IP
 ■ Static IP
 ■ PPTP
 ■ L2TP
Firewall
NAT firewall with SPI (Stateful Packet Inspection)
Built-in NAT server supporting Port Forwarding, and DMZ
Built-in firewall with IP address/ MAC address/ Port/ URL filtering
Supports ICMP-FLOOD, UDP-FLOOD, TCP-SYN-FLOOD filter, DoS protection
Routing Protocol
Static / Dynamic (RIP1 and 2) Routing
VPN Pass-through
PPTP, L2TP, IPSec, IPv6
LAN
Built-in DHCP server supporting static IP address distributing
Supports UPnP, Dynamic DNS
Supports IGMP Proxy
Supports 802.1d STP (Spanning Tree)
IP / MAC-based Bandwidth Control
System Management
Web-based (HTTP) management interface
SNTP time synchronize
Easy firmware upgrade
System Log supports Remote Log
Standards Conformance
IEEE Standards
IEEE 802.11n (2T2R, up to 300Mbps)
IEEE 802.11g
IEEE 802.11b
IEEE 802.11i
IEEE 802.3 10Base-T
IEEE 802.3u 100Base-TX
IEEE 802.3x Flow Control
Other Protocols and Standards
CSMA/CA, CSMA/CD, TCP/IP, DHCP, ICMP, NAT, PPPoE, SNTP
Environment
Temperature

| | |
| --- | --- |
| Operating: | 0 ~ 40 degree C |
| Storage: | -40 ~ 70 degrees C |

Humidity

| | |
| --- | --- |
| Operating: | 10 ~ 90% (Non-Condensing) |
| Storage: | -5 ~ 90% (Non-Condensing) |