WBS-502AC - 900Mbps 802.11ac Outdoor Wireless CPE
Overview

Ultra-high-speed Enterprise Outdoor Wireless Solution
PLANET WBS-502AC 5GHz 900Mbps 802.11ac Outdoor Wireless CPE supports IEEE 802.11ac standard with 2T2R MIMO mechanism, which brings the latest wireless technology into outdoor infrastructure. The WBS-502AC supports standard IEEE 802.3at Power over Ethernet (PoE) and features IEEE 802.3af PoE pass-through going to the secondary LAN port, which is able to supply power to the PoE IP camera or other PoE PD equipment. With excellent performance and concentrated antenna beamwidth, the WBS-502AC is definitely ideal for long-distance outdoor surveillance – be it PtP or PtMP application.
Bringing Superior 11ac Performance to Outdoor
To provide extremely high-speed user experience, the WBS-502AC adopts IEEE 802.11ac technology to extend the 802.11n 40MHz channel binding to 80MHz and the implementation of 256-QAM modulation where higher transmitting/receiving rates go up to 867Mbps in 5GHz frequency band with less interference. Equipped with Gigabit LAN ports, the WBS-502AC allows 11ac wireless traffic to directly access high-speed connection without the bottleneck of 100Mbps uplink wired connection, thus offering a better range and superior throughput than those of the 802.11a/n wireless outdoor CPE.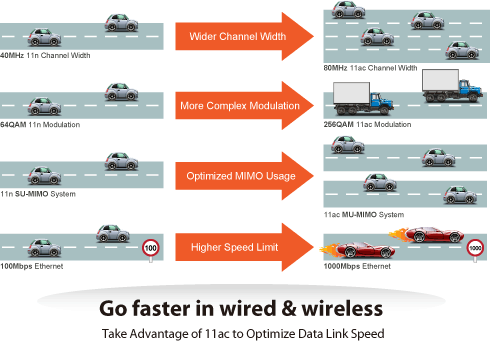 Multiple SSIDs with VLAN Tagging
Multiple SSIDs can broadcast up to 8 wireless networks with different names. For management purposes, the IEEE 802.1Q VLAN supported allows multiple VLAN tags to be mapped to multiple SSIDs to distinguish the wireless access or allows VLAN tags to pass through over WDS link. This makes it possible for the WBS-502AC to work with managed Ethernet switches to have VLAN assigned for a different access level and authority.
Value-added Outdoor Characteristics
The WBS-502AC is definitely suitable for wireless IP surveillance, and bridge link of building to building and backbone of public service. With standard IEEE 802.3at Power over Ethernet (PoE) design, the WBS-502AC can be powered by the remote PoE switch through the 100m Cat5e UTP cable and is able to supply power to the IP camera supporting IEEE 802.3af standard through the secondary LAN port. With the IP55-rated outdoor UV-resistant enclosure, the WBS-502AC can perform normally under rigorous weather conditions, meaning it can be installed in any harsh, outdoor environments.
Completely Secure Wireless Network
The WBS-502AC supports 152-bit WEP, WPA/WPA2, WPA-PSK and WPA2-PSK wireless encryptions, the advanced WPA2-AES mechanism and 802.1X RADIUS authentication, which can effectively prevent eavesdropping by unauthorized users or bandwidth occupied by unauthenticated wireless access. Furthermore, any users are granted or denied access to the wireless LAN network based on the ACL (Access Control List) that the administrator pre-established. To provide the secure Wi-Fi access for visitors, Guest Network feature allows you to create a temporary network with an individual SSID, security setting and DHCP settings to isolate the guest network to a separate network segment, thus preventing guests from being able to access files on intranet and also ensuring the guest's internet connectivity.

Deployment and Alignment within Minutes
In order to provide accurate antenna alignment, the WBS-502AC is equipped with a 360-degree 3D array of mounting brackets, greatly reducing deployment effort to easily achieve high-performance backhaul links over long distance through the built-in 19dBi higher gain antenna.
Smart Management Features Meeting High Expectations
With user-friendly Web UI and comprehensive management features like RSSI threshold, Client Limit Control and Wireless Traffic Shaping, the WBS-502AC is easy to limit the client access and control the bandwidth, even for users who have no experience in setting up a wireless network. Furthermore, with the Planet Smart Discovery Utility, SNMP and diagnostics tools, the WBS-502AC is convenient to be managed remotely.
Key Features
Easy Deployment and Management
Full encryption supported: 64-/128-/152-bit WEP, WPA/WPA2, WPA-PSK/WPA2-PSK and 802.1X RADIUS authentication
Supports 802.1Q VLAN pass-through over WDS and SSID-to-VLAN mapping
Supports up to 32 entries of MAC address filtering

Secure Network Connection
Multiple operation modes: AP, Client Bridge, Client Router (WISP), WDS
WMM (Wi-Fi multimedia) provides higher priority to multimedia transmitting over wireless
Wireless Traffic Shaping to control the upload/download bandwidth
Wi-Fi scheduler allows to enable or disable based on predefined schedule

Multiple Operation Modes and Wireless Features
IP55 rating
IEEE 802.3at PoE design, IEEE 802.3af PoE pass-through going to the secondary LAN port
Operating temperature: -20~70°C

Outdoor Environmental Characteristics
Built-in 19dBi dual-polarization antenna
High output power up to 400mW with multiply-adjustable transmit power control

RF Interface Characteristics
Supported WAN connection types in WISP mode: DHCP, Static IP, PPPoE, PPTP
Supports Port Forwarding and DMZ for various networking applications
Supports DHCP server in WISP mode
Supports Guest Network in AP mode

Fixed Network Broadband Router
Compliant with the IEEE 802.11a/n/ac wireless technology
2T2R architecture with data rate of up to 900Mbps
Equipped with two 10/100/1000Mbps RJ45 ports with auto MDI/MDI-X supported

Industrial Compliant Wireless LAN and LAN

360-degree 3D array of mounting brackets design
Multilingual Web User Interface: English, Spanish, French, German, Portuguese, Russian, Simplified Chinese
CLI command and SNMP-based management interface
Self-healing mechanism through system auto reboot setting
System status monitoring through remote Syslog Server and Device Discovery
Diagnostic tools includes Ping, Traceroute, Speed
Planet Smart Discovery Utility allows administrator to discover and locate each AP

Applications
Rapid and Easy Deployment with 11ac Superior Performance
The WBS-502AC can easily be mounted on the wall or pole by using its 3-axis pivoting bracket with 360-degree rotation option, which is able to align the remote antenna within minutes in field deployment, thus optimizing transmission quality. It is dedicatedly designed for IP surveillance and CPE users with Internet access via the WISP provider in rural areas. Besides, it caters to various wireless communication connectivities, such as AP, Client, WDS and WISP, thus meeting users' various applications.
**We recommend you to match the WBS-502AC with our related products to get the best results.

Specifications
Hardware
Standard Support
IEEE 802.11a/n/ac
IEEE 802.11i
IEEE 802.3 10BASE-T
IEEE 802.3u 100BASE-TX
IEEE 802.3ab 1000BASE-T
IEEE 802.3x flow control
Memory
64 Mbytes DDR SDRAM
16 Mbytes Flash

Power Requirements
IEEE 802.3at PoE+
Interface
Wireless IEEE802.11a/n/ac, 2T2R
PoE LAN (LAN 1): 1 x 10/100/1000BASE-TX, auto-MDI/MDIX, 54V 802.3at PoE in
LAN 2: 1 x 10/100/1000BASE-TX, auto-MDI/MDIX, 802.3af PoE pass-through out

Button
Reset button
LED
PWR, LAN, WLAN, Signal Strength
Antenna
Built-in 19dBi directional antenna with dual polarization

[Port1]
HPBW Horizontal: 30 degrees
HPBW Vertical: 18 degrees

[Port2]
HPBW Horizontal: 18 degrees
HPBW Vertical: 30 degrees
Data Rate
IEEE 802.11a: up to 54Mbps
IEEE 802.11n (20MHz): up to 150Mbps
IEEE 802.11n (40MHz): up to 300Mbps
802.11ac (VHT20, Nss2-MCS8): Up to 173.3Mbps
802.11ac (VHT40, Nss2-MCS9): Up to 400Mbps
802.11ac (VHT80, Nss2-MCS9): Up to 867Mbps
Media Access Control
CSMA/CA
Modulation
Transmission/Emission type: OFDM
Data Modulation type: OFDM with BPSK, QPSK, 16-QAM, 64-QAM, 256-QAM

Frequency Band
FCC: 5.180~5.580GHz, 5.660~5.825GHz
ETSI: 5.180~5.240GHz

Operating Channels
United States --FCC:
36, 40, 44, 48, 52, 56, 60, 64, 100, 104, 108, 112, 116,
132, 136, 140, 149, 153, 157, 161, 165 (21 channels)

Europe --ETSI: 36, 40, 44, 48 (4 channels)

5GHz channel list will vary in different countries according to their regulations.

Max. Transmit Power (dBm)
FCC : up to 26 ± 2dBm
ETSI : < 20dBm (EIRP)

Receiver Sensitivity
(dBm)
IEEE 802.11a:
-93/-76dBm (6/54Mbps)

IEEE 802.11n (HT20):
MCS0/ MCS8 : -92dBm
MCS7/ MCS15 : -73dBm

IEEE 802.11n (HT40):
MCS0/ MCS8 : -89dBm
MCS7/ MCS15 : -72dBm

IEEE 802.11ac(VHT20):
802.11ac (VHT20, Nss2-MCS0): -92dBm
802.11ac (VHT20, Nss2-MCS8): -69dBm

IEEE 802.11ac(VHT40):
802.11ac (VHT40, Nss2-MCS0): -89dBm
802.11ac (VHT40, Nss2-MCS9): -65dBm

IEEE 802.11ac(VHT80):
802.11ac (VHT80, Nss2-MCS0): -86dBm
802.11ac (VHT80, Nss2-MCS9): -62dBm
Power Consumption
Maximum 24W (with PSE)
Power Requirements
LAN1: IEEE 802.3at PoE+, 48~56V DC in-line power
Environment and Certification
Operating Temperature
-20~70 degrees C
Operating Humidity
10~90% (non-condensing)
IP Level
IP55
Regulatory
CE, FCC, RoHS
Software
LAN 
■ Static IP
■ Dynamic IP
■ DHCP server in WISP mode

Supports 802.1d STP (Spanning Tree Protocol)
WAN Connection Type
(WISP Mode only)
■ Static IP
■ Dynamic IP
■ PPPoE
■ PPTP
Firewall
Offers DoS protection to guard user's content network against DoS attacks
Built-in DMZ and Port Forwarding
VPN Pass-through:
 ■ PPTP Pass-through
 ■ L2TP Pass-through
 ■ IPSec Pass-through
Wireless Modes
■ Access Point
■ Client Bridge
■ WDS (AP/Bridge/Station)
■ Client Router (WISP)/Client AP Router (WISP+AP)
Channel Width
20MHz, 40MHz, 80MHz
Encryption Type
64-/128-/152-bit WEP, WPA, WPA-PSK, WPA2, WPA2-PSK, 802.1X
Wireless Security
Enable/Disable SSID Broadcast
Wireless MAC address filtering up to 32 entries per SSID
VAP Separation, Station Separation
Max. SSIDs
Up to 8
Max. Wireless Clients
127 per radio (32 suggested, depending on usage)
Max. WDS Peers
Up to 8 in WDS Bridge mode
Wireless QoS
Supports Wi-Fi Multimedia (WMM)
Supports Wireless Traffic Shaping per Radio
Wireless Advanced Control
Auto Channel Selection
Auto Transmit Power by Regular Domains
Client Limit Control, RSSI Threshold
Distance Control (Auto Ack Timeout)
Wi-Fi Schedule
Status Monitoring
Connection Status
Device Discovery, PLANET Smart Discovery
Wireless Client List/WDS Link List
DHCP Client Table
System Log supports remote syslog server
Signal Strength LEDs in Client Bridge and WDS Station modes
VLAN
VLAN pass-through over WDS,
SSID-to-VLAN mapping
Management VLAN (VID: 1~4094)
Self Healing
Supports auto reboot settings
NTP
Network Time Management
Management
Web-based UI, HTTPS, SSH, CLI (Command Line Interface) supported
Configuration backup and restore
Email alert
SNMP v1/v2c/v3 support, MIB I/II, Private MIB
Diagnostic Tools
Built-in Ping, Trace Route, Speed Test Tools