POE-171 - Single-Port 10/100/1000Mbps Ultra PoE Injector (60 Watts)

Overview
Quick and Easy Gigabit High Power PoE Network Deployment
The POE-171 is a single port ultra Power over Ethernet Injector with maximum up to 60 watts of power output over Ethernet cable. It is designed specifically to fill the demand of growing higher power required network equipment. If the POE-171 co-works with PLANET POE-171S (60-watt IEEE 802.3at PoE splitter), it can offer more PoE applications, such as:

 ■ PoE PTZ Speed Dome
 ■ Other Network devices that need higher PoE power to work normally
 ■ Thin-client
 ■ AIO(All-in-One) touch PC
 ■ Remote digital signage display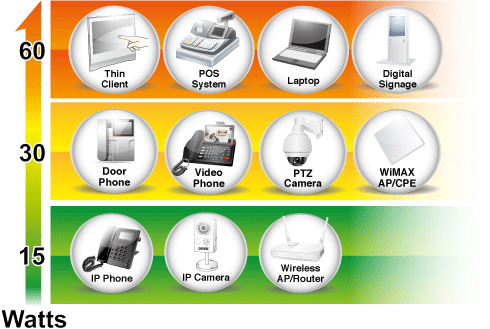 The POE-171 delivers the Ethernet digital data with DC 56V power over the twisted pair cables as an IEEE 802.3at Gigabit High Power over Ethernet Injector, and it supports distance from POE-171 to a PoE device up to 100 meters.

60 watts of Power over 4-Pair UTP
The POE-171 ultra PoE solution uses cabling standard as IEEE 802.3at/af PoE. Instead of delivering power over 2-pair twisted UTP – be it End-span (Pin 1,2,3 and 6) or Mid-span (Pin 4,5,7 and 8), it provides the capability to source up to 60 watts of power by using all the four pairs of standard Cat5e/6 Ethernet cabling. In the new 4-pair system, two PSE controllers will be used to power both the data pairs and the spare pairs.
Cost-effective and Easy Cabling Installation
With concepts of "Easy to install", "Plug and Play" and "Simple troubleshooting" for business and home users, the POE-171 is in the compact size housing, and it provides one 52~56V DC input power jacket at its right side, one power LED and two PoE In-use LEDs (802.3at End-span and 802.3at Mid-span) at top side. Two RJ-45 ports -- Ethernet port and Ethernet+DC port -- are at side panel. Simply plug in the Ethernet cables and DC power cord, and the POE-171 is ready to provide high speed network communication and 60-watt ultra power PoE injector functions simultaneously with no need of software configuration.

The POE-171 Ultra PoE Injector is an ideal solution that enables network device with high power demand to be powered directly via the RJ-45 Port interface without the need to install power outlets and electrical cabling.
Features
Interface

2-Port RJ-45 interface

- 1-Port Data + Power output

- 1-Port Data input

1 DC 52~56V input power socket
Power over Ethernet

Ultra Power over Ethernet End-Span/Mid-Span PSE
IEEE 802.3at/af PoE standard compliant
Compatible with All IEEE 802.3at/af powered devices
Supports 56VDC, 60-watt PoE power output at maximum
Auto-detection of PoE IEEE 802.3at/af equipment and device for possible damage by incorrect installation
Automatic detection and protection of non–standard Ethernet terminals
Remote power feeding up to 100 meters
Hardware

Compact size metal case
LED indicators for power LED and PoE In-use LED
Standard Compliance

IEEE 802.3 10Base-T
IEEE 802.3u 100Base-TX
IEEE 802.3ab 1000Base-T
IEEE 802.3at High Power over Ethernet
IEEE 802.3af Power over Ethernet
FCC Part 15 Class A, CE
Applications
UltraPoE / 802.3at PoE Injector Installation
Because of having the capability of IEEE 802.3at Power over Ethernet, the POE-171 can directly connect with any IEEE 802.3at or IEEE 802.3af PoE devices, like PTZ (Pan, Tilt & Zoom) network cameras, PTZ Speed Dome, color touch-screen Voice over IP (VoIP) telephones, multi-channel wireless LAN access points and other network devices which support IEEE 802.3at or IEEE 802.3af Power over Ethernet.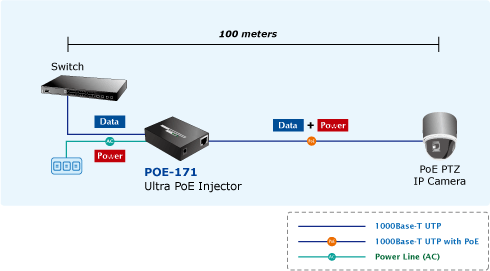 Ultra PoE Injector and Splitter Installation
For a place which is hard to find the power inlet, the POE-171 and POE-171S operate as a pair to provide the easiest way to power your Ethernet devices which need high power input, such as PTZ (Pan, Tilt & Zoom) network cameras, PTZ Speed Dome, color touch-screen Voice over IP (VoIP) telephones, and multi- channel wireless LAN access points installed on the top of the building or used in enterprise office or home.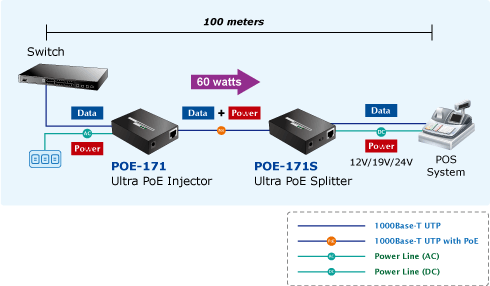 IEEE 802.3at Injector and PoE Extended Installation
To achieve the benefits of IP Surveillance and also the long-distance IP Camera distribution, the POE-171 and PLANET PoE Extender, POE-E201, can be a quick and cost-effective option. In the simplest application, the PoE Extender enables a PoE IP camera to be installed up to 200 meters away from the POE-171. The POE-171 delivers PoE power over the first 100 meters to the PoE Extender over UTP cable, and then the PoE Extender forwards the Ethernet data and the remaining POE power to the remote PoE IP camera.

Specifications
Hardware Specifications
Interface
Input Port
 ■ 1 x RJ-45 STP
 ■ Data In
Output Port
 ■ 1 x RJ-45 STP
 ■ PoE (Data + Power) Out
DC socket
 ■ 56V DC Input
LED Indicator
System: Power x 1 (Green)
PoE Port: PoE in Use x 1 (Green)
Network Cable
Ultra PoE (60W):
 10/100/1000Base-T: 4-Pair UTP Cat. 5e, 6 up to 100m (328ft)
802.3af / at PoE(15W / 30W):
 10/100/1000Base-T: 2-Pair UTP Cat. 3, 5, 5e, 6 up to 100m (328ft)

Data Rate
10/100/1000Mbps
Dimensions (W x D x H)
95 x 70 x 26 mm
Weight
237g
Unit Input Voltage
DC 56V
Power Requirements
External AC-to-DC adapter
100-240V AC, 50/60Hz, 1.5A

Power Consumption
65 watts max.
Operating Temperature
0 ~ 50 degrees C
Storage Temperature
-10 ~ 70 degrees C
Operating Humidity
5 ~ 90%, Relative Humidity, non-condensing
Storage Humidity
5 ~ 90%, Relative Humidity, non-condensing
Power over Ethernet
PoE Standard
IEEE 802.3at High Power over Ethernet End-span / Mid-span PSE
Power Output
DC 56V / 60-watt PoE via 4-pairs
DC 56V / 30-watt PoE via 2-pairs

PoE Power Supply Type
End-Span + Mid-Span
Power Pin Assignment
Pair 1: 1/2(-), 3/6(+)
Pair 2: 4/5(+), 7/8(-)
Standards Conformance
Standards Compliance
IEEE 802.3 10Base-T Ethernet
IEEE 802.3u 100Base-TX Fast Ethernet
IEEE 802.3ab 1000Base-T Gigabit Ethernet
IEEE 802.3at High Power over Ethernet
IEEE 802.3af Power over Ethernet

Regulation Compliance
FCC Part 15 Class A, CE