ICG-2420-LTE - Industrial 4G LTE Cellular Gateway with 4-Port 10/100TX (2 SIM Card Slots, 1 RS232, 1 RS485, DI/DO, -20~70 degrees C)
Overview
Making Network Connection Easy with 4G LTE Cellular Gateway
PLANET ICG-2420-LTE series is a highly-reliable and secure cellular communications gateway for industrial networking. With four Ethernet ports (3 LAN and 1 WAN) and 4G LTE (Long Term Evolution), the ICG-2420-LTE offers the cellular connection for at least 3 devices. In addition, it supports LTE 2x1 DL MIMO technology which can reach a download (DL) speed of up to 150Mbps and an upload (UL) speed of 50Mbps. The Cellular Gateway also supports multi-band connectivity including LTE FDD/TDD, WCDMA and GSM for a wide range of applications and vertical machine-to-machine (M2M) platform. The ICG-2420-LTE is specially designed for deploying cellular communications networks for heavy industrial use with wide temperature range from -20 to 70 degrees C.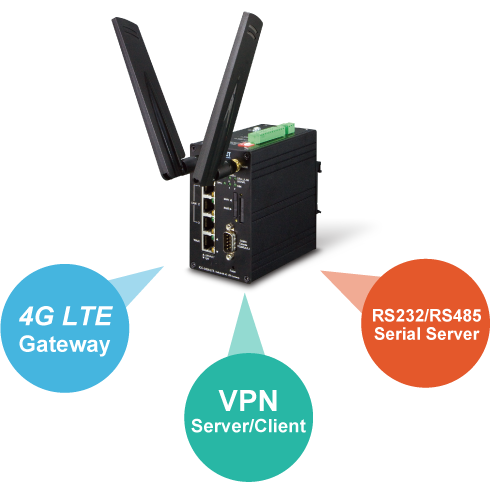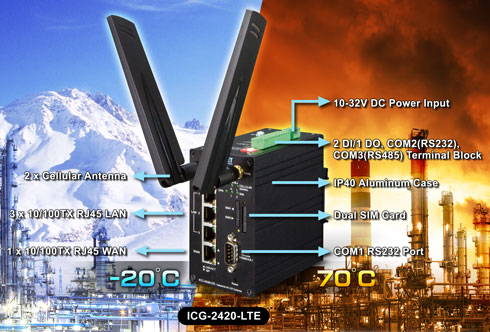 Dual SIM Designed
To enhance reliability, the ICG-2420-LTE series is equipped with dual SIM slots that support failover and roaming over to ensure uninterrupted connectivity for mission-critical cellular communications. It provides a more flexible and easier way for users to create an instant network sharing service via 4G LTE whenever in public places like transportation, outdoor event, etc.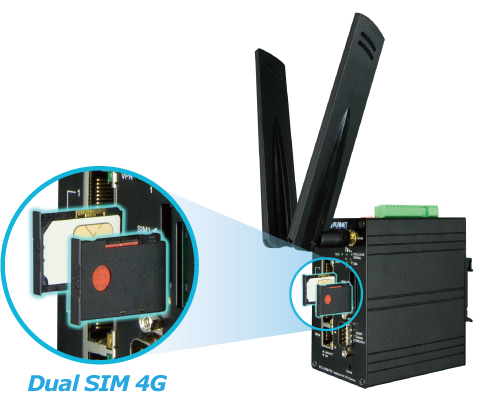 Cost-effective VPN Solution
The ICG-2420-LTE series provides complete data security and privacy for access and exchange of most sensitivity data. The full VPN capability of the ICG-2420-LTE series including built-in OpenVPN and IPSec VPN function with DES/3DES/AES encryption and MD5/SHA-1 authentication makes the shared connection more secure and flexible. The IPSec VPN also makes the private tunnel over Internet in a secure way toward the business.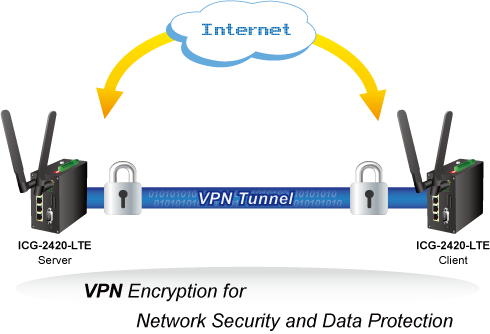 Remote Manageable Solution for Ethernet to RS232/RS485 Applications
PLANET ICG-2420-LTE series' serial RS232/RS485 interface can be converted over the Fast Ethernet networking. It can operate as a virtual server or client where IP-based serial equipment can be managed. The ICG-2420-LTE series helps save the network administrator's valuable time in detecting and locating network problems, rather than visual inspection of cabling and equipment.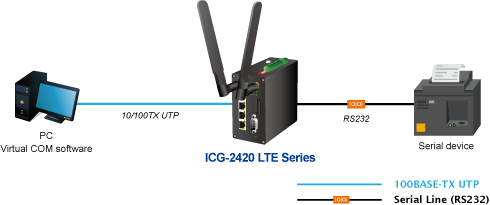 Superior Management Functions
For networking management features, the ICG-2420-LTE series provides such functions as DHCP server, DMZ and Port Forwarding, as well as full secure functions including Network Address Translation (NAT), IP/URL/MAC filtering. The ICG-2420-LTE series has 4G and WAN connection failover characteristics, which can automatically switch over to the redundant, stable WAN connection to keep users always online without missing any fascinating moments.
User-friendly and Secure Management
For efficient management, the ICG-2420-LTE series is equipped with console, web and SNMP management interfaces. With the built-in web-based management interface, the ICG-2420-LTE series offers an easy-to-use, platform independent management and configuration facility. The ICG-2420-LTE series supports SNMP and it can be managed via any management software based on the standard SNMP v1 or v2 Protocol. Moreover, the ICG-2420-LTE series offers the remotely secure management by supporting SSHv2 and SNMP v3 connection where the packet content can be encrypted at each session.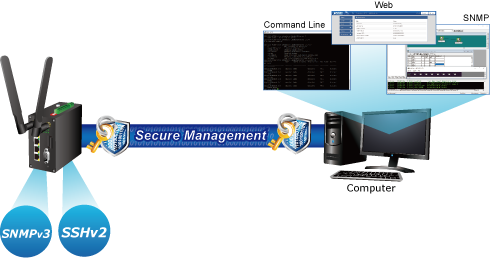 IPv6/IPv4 Dual Stack Capability
The ICG-2420-LTE series supports both IPv4 and IPv6 Protocols. As more network devices are growing and the needs for larger addressing and higher security become critical, the ICG-2420-LTE series is the best solution for applications of 4G LTE and serial communication to connect with the IPv6 network.
Key Features
Management

Supports demilitarized zone (DMZ)
Supports OpenVPN
Supports IPSec (3DES, AES128, AES196, AES256, MD5, SHA-1, SHA256)
Supports Modbus TCP (Only functions with COM3 RS485)
Supports Port Forwarding
Supports Dynamic DNS and PLANET DDNS
Supports WAN connection types: DHCP client, static IP and PPPoE client
Secures network connection

- IP filter

- URL filter

- MAC filter
Advanced Features


2 digital input (DI)
1 digital output (alarm)
Integrates sensors into auto alarm system
Transfers alarm via SNMP trap
Digital Input and Digital Output (Alarm)


IP40 aluminum case
DIN-rail design
Power requirement: 10~32V DC
Supports EFT protection for 2000V DC power and 6000V DC Ethernet ESD protection
-20 to 70 degrees C operating temperature
Industrial Case and Installation


Supports multi-band connectivity with FDD LTE/ TDD LTE/ WCDMA/ GSM/ LTE Cat4
Built-in dual SIM for network redundancy
Two detachable antennas for protection against radio interference
LED indicators for connection and data transmission status
Cellular Interfaces


3 10/100BASE-TX RJ45 LAN ports, auto-negotiation, auto MDI/MDI-X
1 10/100BASE-TX RJ45 WAN port, auto-negotiation, auto MDI/MDI-X
2 4G LTE 2dBi antennas
2 SIM card slots
3 console interfaces (2 RS232 and 1 RS485)

- COM1 (RS232 for management and setup

- COM2 (RS232 for remote serial device)

- COM3 (RS485 for remote serial device)

One DIP switch to improve the communication of RS485 networks
Physical Port


IPv4 and IPv6 dual stack management
Switch management interfaces

- Console/Telnet Command Line interface

- Web switch management

- SNMP v1, v2c, and v3

- SSHv2 secure access

IPv6 IP address/DNS management
System Maintenance

- Firmware upload via HTTP

- Reset button for system reboot or reset to factory default

- Dual images

SNTP (Simple Network Time Protocol)
TR069
System log
Remote system log
SNMP trap for interface Link Up and Link Down notification
Configuration backup and restore
Applications
4G LTE Cellular Communication Solution
PLANET ICG-2420-LTE series adopts 4G LTE cellular technology and thus breaks the 100m limitation of RJ45 transmission. Moreover, wherever there is a cell site, the data rate can be transmitted as far as the distance goes. To avoid data loss affected by an unexpected breakdown connection on the part of ISP, the ICG-2420-LTE series has dual SIM card slots, meaning it can support two different ISPs for redundancy.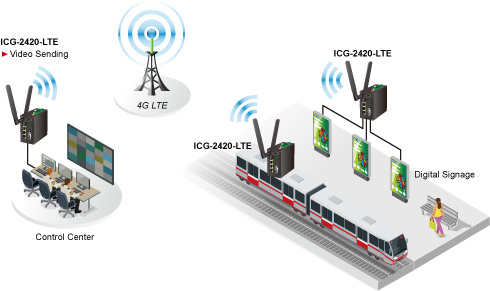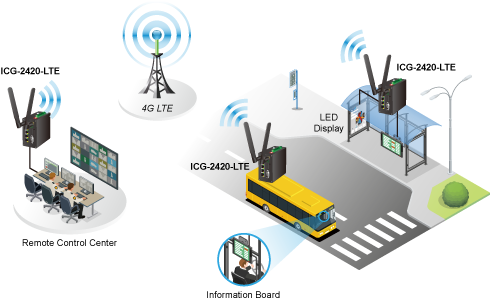 Hardware Specifications
Copper Ports
3 LAN 10/100BASE-TX RJ45 auto-MDI/MDI-X ports
1 WAN 10/100BASE-TX RJ45 auto-MDI/MDI-X port

Serial Interface
3 serial interfaces (2 RS232 and 1 RS485)
COM1 (RS232 for management and setup) (115200, N, 8, 1)
COM2 (RS232 TXD/RXD for remote serial device)
COM3 (RS485 D+/D- for remote serial device)

SIM Interface
2 SIM card slots with mini SIM card tray
Cellular Antenna
2 2dBi external antennas with SMA connectors for LTE
DI/DO Interface
■ 2 Digital Input (DI):
 Level 0: 0V~3V (±0.1V)
 Level 1: 10V~30V (±0.1V)
■ 1 Digital Output (alarm):
 Open collector to 50V DC, 500mA (max.)
Connector
Removable 3-pin terminal block for power input
Removable 11-pin terminal block for DI/DO and serial interface

Switch Architecture
Store-and-Forward
Address Table
1K entries, automatic source address learning and aging
Flow Control
IEEE 802.3x pause frame for full-duplex
Back pressure for half-duplex

Reset Button
< 5 sec: System reboot
> 10 sec: Factory default

Surge Protection
2KV DC
ESD Protection
6KV DC
Enclosure
IP40 aluminum case
Installation
DIN rail kit
LED
System:
SYS (Green)

Ethernet Interfaces (Port1-3 and WAN Port):
 LNK/ACT (Green)
 100 (Orange)
 10 (off)

LTE SIM and Signal:
 VPN (Green)
 SIM1 and SIM2 (Green)
 Cellular signal: High and low (Green)
Dimensions (W x D x H)
60 x 106 x 110 mm
Weight
452g
Power Requirements – DC
10~32V DC, 1A
Power Consumption
7 watts/24 BTU
Multi Band Supports
EU Model
■ FDD LTE B1/B3/B5/B7/B8/B20 (2100/1800/850/2600/900/800)
■ TDD LTE B38/B40/B41 (2600/2300/2500)
■ WCDMA B1/B5/B8 (2100/850/900)
■ GSM/EDGE B3/B8 (1800/900)
US Model
■ FDD LTE B2/B4/B12 (1900/AWS1700/700)
■ WCDMA B2/B4/B5 (1900/AWS1700/850)
LTE Data Rate
20MHz bandwidth: 150Mbps (DL), 50Mbps (UL)
Advanced Functions
VPN
Tunnel Number
 ■ OpenVPN: 10
 ■ IPSec 12:
IPSec:
Encryption Algorithm: 3DES/AES128/AES196/AES256
Integrity Algorithm: MD5/SHA1/SHA256
Connection Types
WAN DHCP Client
Static IP
PPPoE Client
Secure Network
IP filter
URL filter
MAC filter
Other
Supports demilitarized zone (DMZ)
Supports Modbus TCP (only functions with COM3 RS485)
Supports Port Forwarding
Supports Dynamic DNS and PLANET DDNS

Management
Basic Management Interfaces
Console; Telnet; Web browser; SNMP v1, v2c, TR069
Secure Management Interfaces
SSHv2, SNMP v3
SNMP MIBs
RFC 1213 MIB-II
RFC 1643 Ethernet MIB
RFC 2665 Ether-Like MIB
RFC 4293 IP MIB

Standards Conformance
Regulatory Compliance
FCC Part 15 Class A, CE
Standards Compliance
IEEE 802.3 10BASE-T
IEEE 802.3u 100BASE-TX
IEEE 802.3x flow control and back pressure
RFC 768 UDP
RFC 791 IP
RFC 792 ICMP
RFC 2068 HTTP

Environment
Operating
Temperature: -20 ~ 70 degrees C
Relative Humidity: 5 ~ 95% (non-condensing)

Storage
Temperature: -40 ~ 85 degrees C
Relative Humidity: 5 ~ 95% (non-condensing)