GSD-1002M - 8-Port 10/100/1000Mbps + 2-Port 100/1000X SFP Managed Desktop Switch
Overview
PLANET GSD-1002M is an 8-port 10/100/1000Mbps + 2-port 100/1000X SFP Managed Desktop Switch specially designed to build a reliable full Gigabit backbone to transmit and forward data to remote network through fiber optic. It provides 8-port 10/100/1000Base-T copper and 2 extra 100/1000Base-X SFP fiber optic interfaces with dual power system. Besides support for 20Gbps switch fabric to handle extremely large amounts of video, voice and important data in a secure topology, the GSD-1002M provides user-friendly but advanced IPv6 / IPv4 management interface and abundant L2 / L4 switching functions. It is the best investment for businesses/SOHOs expanding or upgrading their network infrastructure.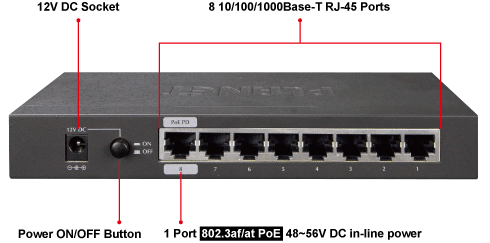 IPv6 / IPv4 Full-functioned Secure Switch
The GSD-1002M is the ideal solution to fulfilling the demand of IPv6 management Gigabit Ethernet Switch. It supports both IPv4 and IPv6 management functions and can work with original network structure. It provides advanced Layer 2 to Layer 4 data switching and Quality of Service traffic control, Access Control List, network access control and authentication, and Secure Management features to protect building automation network connectivity with reliable switching recovery capability that is suitable for implementing fault tolerant and mesh network architectures.

Spanning Tree Protocol and Dual Power Input for High Available Network System
The GSD-1002M features strong rapid self-recovery capability to prevent interruptions and external intrusions. It incorporates Spanning Tree Protocol (802.1s MSTP), auto loop protection and dual power input system (PoE In + 12V DC) into customer's automation network to enhance system reliability and uptime. In the example below, PoE power has failed with dropped cable and DC power will run hardware failover function automatically to keep powering the switch without any loss.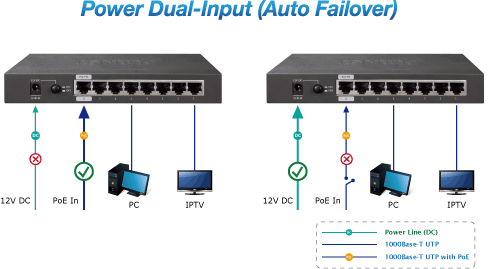 Handheld Size for FTTD Solution
The GSD-1002M provides high-performance edge service and plug-and-play design for FTTD (Fiber to the Desktop) solutions. FTTD service is fiber optic cabling with reliable and expandable, lower-cost wiring architectures, and long distance capability. The GSD-1002M supports dual-speed, 100Base-FX and 1000Base-SX/LX SFP (Small Form-factor Pluggable) fiber-optic modules to connect fiber access point, with high flexibility to be installed in communication closet or major computer room for SMBs.
Features
Physical Ports


8 10/100/1000Mbps Gigabit Ethernet ports with auto-MDI/MDI-X supported
1 port (Port 8) supports 802.3af/at PoE 48~56V DC in-line power
2 100/1000Base-X mini-GBIC/SFP slots

Installation


Dual Power Design

- 802.3af/at PoE In

- 12V DC power adapter acceptable

Layer 2 Features


Prevents packet loss with back pressure (half-duplex) and IEEE 802.3x pause frame flow control (full-duplex)
High performance Store and Forward architecture, broadcast storm control, runt/CRC filtering eliminates erroneous packets to optimize the network bandwidth
Supports VLAN

- IEEE 802.1Q tagged VLAN

- Provider Bridging (VLAN Q-in-Q) support (IEEE 802.1ad)

- Protocol VLAN

- Voice VLAN

- Private VLAN

- Management VLAN

- GVRP

Supports Spanning Tree Protocol

- STP (Spanning Tree Protocol)

- RSTP (Rapid Spanning Tree Protocol)

- MSTP (Multiple Spanning Tree Protocol)

- STP BPDU Guard, BPDU Filtering and BPDU Forwarding

Supports Link Aggregation

- IEEE 802.3ad Link Aggregation Control Protocol (LACP)

- Cisco ether-channel (Static Trunk)

- Maximum 8 trunk groups, up to 8 ports per trunk group

Provides Port Mirror (many-to-1)
Loop protection to avoid broadcast loops

Quality of Service


Ingress / Egress Rate Limit per port bandwidth control
Storm Control support

- Broadcast / Unknown-Unicast / Unknown-Multicast

Traffic classification

- IEEE 802.1p CoS

- TOS / DSCP / IP Precedence of IPv4/IPv6 packets

Strict priority and Weighted Round Robin (WRR) CoS policies

Multicast


Supports IGMP Snooping v2 and v3
Supports MLD Snooping v1 and v2
IGMP Querier mode support
IGMP Snooping port filtering
MLD Snooping port filtering

Security


Authentication

- IEEE 802.1X Port-based network access authentication

- Built-in RADIUS client to co-operate with the RADIUS servers

- RADIUS / TACACS+ login user access authentication

Access Control List
IPv4 / IPv6 IP-based ACL

MAC-based ACL

MAC Security

- Static MAC

- MAC Filtering

Port Security for Source MAC address entries filtering
DHCP Snooping to filter distrusted DHCP messages
Dynamic ARP Inspection discards ARP packets with invalid MAC address to IP address binding
IP Source Guard prevents IP spoofing attacks
DoS Attack Prevention
SSH / SSL

Management


IPv4 and IPv6 dual stack management
Switch Management Interface

- Web switch management

- Telnet Command Line Interface

- SNMP v1, v2c and v3

- SSH / SSL secure access

User Privilege Levels Control
Built-in Trivial File Transfer Protocol (TFTP) client
BOOTP and DHCP for IP address assignment
System Maintenance
- Firmware upload/download via HTTP / TFTP

- Configuration upload / download through Web interface

- Hardware reset button for system reboot or reset to factory default

SNTP Network Time Protocol
Cable Diagnostics
Link Layer Discovery Protocol (LLDP) Protocol and LLDP-MED
SNMP trap for interface Link Up and Link Down notification
Event message logging to remote Syslog server
Four RMON groups (history, statistics, alarms, and events)
PLANET Smart Discovery Utility
Applications
Extending Network Infrastructure for SOHOs, SMBs and Workgroups
Since port 8 of the GSD-1002M provides PoE PD power in-line and 12V DC in interface, it can obtain PoE power from any 802.3af/at PoE PSE equipment. The GSD-1002M is with non-blocking design and handheld size, and extends 8-port 10/100/1000Mbps Gigabit Ethernet and 2-port extra 100Base-FX / 1000Base-SX/LX SFP fiber-optic modules, bringing network infrastructure higher flexibility but lower in cost.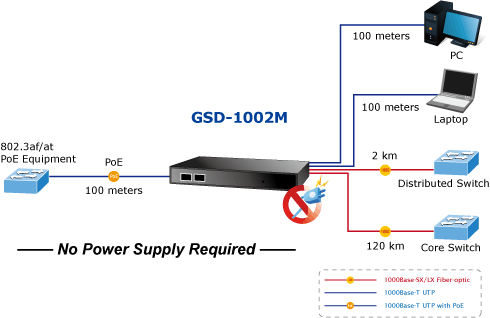 Plug-and-Play for FTTD Solution
The GSD-1002M supports free configuration and free grounding, and provides high-performance edge service. To build the network infrastructure with an easily and quickly installed option, it can decrease attenuation and crosstalk issues for zero-loss data transfer.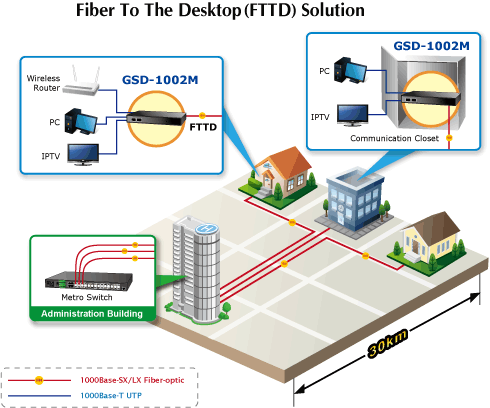 Specifications
Hardware Specifications
Copper Ports
8 x 10/100/1000Base-T RJ45 Auto-MDI/MDI-X port
SFP/mini-GBIC Slots
2 100/1000Base-X SFP interfaces
Supports 100/1000Mbps dual mode and DDM

Switch Architecture
Store-and-Forward
Switch Fabric
20Gbps / non-blocking
Switch Throughput@64Bytes
14.8Mpps
Address Table
8K entries
Share Data Buffer
512K Bytes
Flow Control
IEEE 802.3x pause frame for full-duplex
Back pressure for half-duplex

Jumbo Frame
10K bytes
Reset Button
< 5 sec: System reboot
> 5 sec: Factory Default

LED
System:
   Power (Green)
10/100/1000T RJ45 Interfaces (Port 1 to Port 8):
   1000Mbps (Orange), LNK/ACT (Green)
100/1000Mbps SFP Interfaces (Port 9 to Port 10):
   1000Mbps (Orange), LNK/ACT (Green)

Power Requirements
IEEE 802.3af / at PoE 48V ~ 56V DC in-line power
12V DC power adapter

ESD Protection
6KV DC
Power Consumption / Dissipation
10.9 watts / 37.2 BTU
Dimensions (W x D x H)
191 x 86 x 26 mm
Weight
396g
Enclosure
Metal
Layer 2 Functions
Port Mirroring
TX / RX / Both
Many-to-1 monitor

VLAN
802.1Q Tagged-based VLAN
Up to 256 VLAN groups, out of 4094 VLAN IDs
802.1ad Q-in-Q tunneling
Voice VLAN
Protocol VLAN
Private VLAN (Protected port)
GVRP

Link Aggregation
IEEE 802.3ad LACP and static trunk
Supports 8 groups of 8-port trunk

Spanning Tree Protocol
STP / RSTP / MSTP
IGMP Snooping
IGMP (v2 / v3) Snooping
IGMP Querier
Up to 256 multicast groups

MLD Snooping
MLD (v1 / v2) Snooping, up to 256 multicast groups
Access Control List
IPv4/IPv6 IP-based ACL / MAC-based ACL
QoS
8 mapping ID to 8 level priority queues
 - Port Number
 - 802.1p priority
 - 802.1Q VLAN tag
 - DSCP field in IP Packet
Traffic classification based, Strict priority and WRR

Security
IEEE 802.1x – Port-based authentication
Built-in RADIUS client to co-operate with RADIUS server
RADIUS / TACACS+ user access authentication
IP-MAC port binding
MAC Filter
Static MAC Address
DHCP Snooping and DHCP Option 82
STP BPDU Guard, BPDU Filtering and BPDU Forwarding
DoS Attack Prevention
ARP Inspection
IP Source Guard

Management Functions
Basic Management Interfaces
Web browser / Telnet / SNMP v1, v2c
Firmware upgrade by HTTP / TFTP protocol through Ethernet network
Remote / Local Syslog
System log
LLDP protocol
SNTP

Secure Management Interfaces
SSH, SSL, SNMP v3
SNMP MIBs
RFC 3635 Ethernet-like MIB
RFC 2863 Interface Group MIB
RFC 2819 RMON (1, 2, 3, 9)
RFC 1493 Bridge MIB

Standards Conformance
Regulation Compliance
FCC Part 15 Class A, CE
Standards Compliance
IEEE 802.3 10Base-T
IEEE 802.3u 100Base-TX/100Base-FX
IEEE 802.3z Gigabit SX/LX
IEEE 802.3ab Gigabit 1000T
IEEE 802.3x Flow Control and Back Pressure
IEEE 802.3ad Port Trunk with LACP
IEEE 802.1D Spanning Tree protocol
IEEE 802.1w Rapid Spanning Tree protocol
IEEE 802.1s Multiple Spanning Tree protocol
IEEE 802.1p Class of Service
IEEE 802.1Q VLAN Tagging
IEEE 802.1x Port Authentication Network Control
IEEE 802.1ab LLDP
IEEE 802.3af (Power over Ethernet)
IEEE 802.3at (High Power over Ethernet)
RFC 768 UDP
RFC 793 TFTP
RFC 791 IP
RFC 792 ICMP
RFC 2068 HTTP
RFC 1112 IGMP version 1
RFC 2236 IGMP version 2
RFC 3376 IGMP version 3
RFC 2710 MLD version 1
RFC 3810 MLD version 2

Environment
Operating
Temperature: 0 ~ 50 degrees C
Relative Humidity: 5 ~ 95% (non-condensing)

Storage
Temperature: -20 ~ 70 degrees C
Relative Humidity: 5 ~ 95% (non-condensing)