ICS-2105A - Industrial RS-232/RS-422/RS-485 over 100Base-FX Media Converter (Fiber, Vary on SFP module)
Overview
CostCost-effective Solutions of RS-232 / RS-422 / RS-485 for Industrial Ethernet Applications
PLANET ICS-210x Serial over Ethernet Converter series is specially designed to convert serial RS-232, RS-422 or RS-485 communication into Industrial Fast Ethernet networking and help to extend the network distance efficiently and inexpensively. There are SC and LC connectors with single-mode or multi-mode media available in the ICS-210x series for your network needs. The ICS-210x is a time-saving and cost-effective solution for users and SIs to quickly transform its serial equipment to the Ethernet network with no need of replacing the existing serial equipment and software system.

Efficiently Extending Network Distance
The ICS-210x series includes models ICS-2102, ICS-2102S15 and ICS-2105A. The ICS-2102 and ICS-2102S15 media converters can extend the deployment distance of serial equipment by 2km and 15km. The ICS-2105A, especially equipped with one SFP fiber slot (mini-GBIC 100Base-FX SFP, Small-Form Factor Pluggable), supports the deployed distance extension from 2km (via multi-mode fiber) up to 120 kilometers (via single-mode fiber) or longer. The ICS-210x series perfectly meets the diverse demands in various industrial network environments and provides reliable network solutions within your budget of installation.

Remote Management
The ICS-210x series makes the connected serial equipment become IP-based facilities and able to connect to a TCP/IP network immediately. It also provides Web Management Interface for efficient remote network management. The powerful Web Smart Media Converter series supports application mode and serial operation mode for alarm or IP address connection, which saves the network administrator's time by detecting and locating network problems without visual inspection of the cabling and equipment. Multiple connection options are available for large networking environment as well.

Stable Performance under Difficult Environments
The ICS-210x series provides a high level of immunity against electromagnetic interference and heavy electrical surges which are usually found on plant floors or in curb side traffic control cabinets. The feature of operating temperature range from -10 to 60 degrees C allows the ICS-210x series to be placed in almost any difficult environment.

The ICS-210x series is equipped with compact IP30 standard metal case that allows either DIN rail or wall mounting for efficient use of cabinet space. The ICS-210x series also provides an integrated power supply source with wide range of voltages (12 to 48V DC) ideally suitable for worldwide operation with high availability applications requiring dual or backup power inputs.
Features
Serial Interface
 –One RS-232 port and one RS-422/485 port to one 100Base-FX Media Conversion
 –Cost effective for RS-232/ RS-422/ RS-485 to Ethernet application
 –Supports RS-232 with DB9 interface, 4-wire RS-422 or 2-wire RS-485 with terminal
  block operation
 –Asynchronous serial data rates up to 921600bps

Ethernet Interface
 –Complies with IEEE 802.3, IEEE 802.3u 100Base-FX standard
 –Supports 100Base-FX multi-mode SC connector, distance up to 2km for ICS-2102
 –Supports 100Base-FX single-mode SC connector, distance up to 15km for ICS-2102S15
 –Supports 100Base-FX single-mode LC connector, distance varies depending on SFP module for
  ICS-2105A

Smart Functions
 –Standard TCP/IP interface and versatile operation modes
 –Software Protocol supports ARP, ICMP, TCP/IP, UDP, HTTP server, DHCP client, Telnet server/client
 –Built-in IP-based Web interface for remote management
 –Serial Operation mode selected via Web management
 –Pair Connection mode for connecting two serial devices over a network
 –PLANET Smart Discovery utility automatically finds the client devices on the network
 –Firmware upgrade via HTTP protocol

Hardware
 –LED indicators for easy network diagnose
 –Reset Button on the front panel for resetting to factory default

Industrial Case / Installation
 –IP30 metal case protection
 –DIN rail and wall mount design
 –12 to 48V DC / 24V AC, redundant power with polarity reverse protect function and connective
  removable terminal block for master and slave power
 –Supports EFT protection 6000 VDC for power line
 –Supports 6000 VDC Ethernet ESD protection
 –-10 to 60 degrees C operating temperature
Applications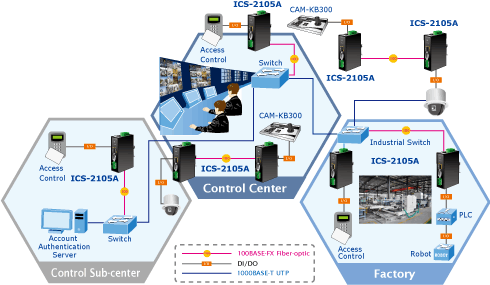 Access Control System – Traditional System Application
Most of the enterprises and government use access control plate and Mifare or RFID to authorize entrance identity. Traditionally, the access control machines use RS-232 or RS-485 serial interface with their cables connecting to login server. By applying the ICS-210x Serial over Ethernet Converter series, the access control machine is able to extend the network over longer distances via fiber optic interface. The distance can be up to 15km in a local range. In another way, the ICS-210x series can be linked to an xDSL router to get the Internet access capability so that the access control can be set and monitored over the Internet.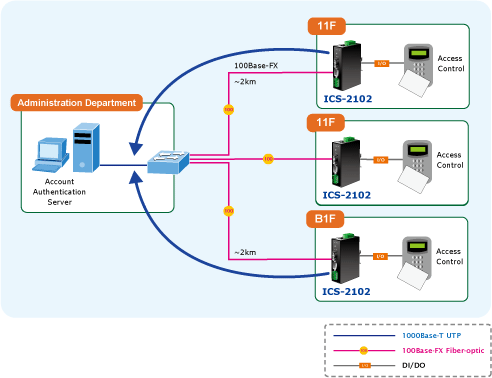 Process Control
To monitor, configure and manage the Robot conveyer including other machines in manufacturing, PLC (Programmable Logical Control) is required to drive the above manufacturing process. The ICS-210x can be set to the TCP Server mode and connect to the PLC. Thus, the administrator can configure and set command settings through Fast Ethernet intranet to remotely control the PLC, the administrator and workstation. It is not necessary to stand by the I/O machine.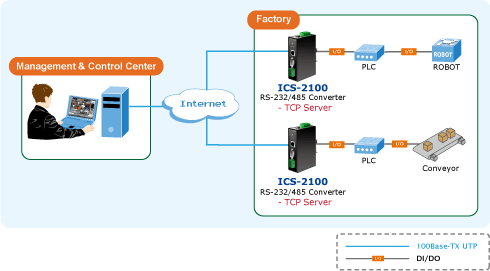 Surveillance Motion Control – Pair Connection Mode
Using pair connection along with fiber optic patch cord, the ICS-210x extends RS-232 / RS-422 / RS-485 interface distance from surveillance and scanner to the control keyboard/ joystick installed in the remote monitoring center.

Specifications
Serial Port
Interface
RS-232 x 1
RS-422 / RS-485 x 1

Connector
DB9 for RS-232
Terminal block for RS-422 / RS-485

Baud Rate (Data Rate)
300bps to 921600bps
Data Bits
5, 6, 7, 8
Parity Type
1, 1.5/2
Stop Bit
Odd, Even, None, Space, Mark
Flow Control
Hardware, None
Signals
RS-232: DCD, RxD, TxD, GND, RI
RS-422: Tx+, Tx-, Rx+, Rx-
RS-485: Data A (+), Data B (-)

Fast Ethernet Port
Connector
ICS-2102 / ICS-2102S15: SC
ICS-2105A: LC (SFP)
Mode
ICS-2102: Multi-Mode
ICS-2102S15: Single Mode
ICS-2105A: Multi-Mode / Single-Mode (Vary on SFP module)
Distance
ICS-2102: 2km
ICS-2102S15: 15km
ICS-2105A: 2km up to 120km (Vary on SFP module)

Optical Wavelength
ICS-2102: 1300nm
ICS-2102S15: 1310nm
ICS-2105A: (Vary on SFP module)
Cable
ICS-2102: 50/125μm or 62.5/125μm multi-mode fiber cable
ICS-2102S15: 9/125μm single-mode fiber cable
ICS-2105A: 50 or 62.5/125μm multi-mode fiber cable
     9/125μm single-mode fiber cable
Hardware
LED Indicators
System: Power 1, Power 2, Fault
TP or Fiber Port: Link / Active
Serial Port: Serial port mode, RS-232, RS-422 or RS-485

Management
Web Management
PLANET Smart Discovery Utility

Virtual COM Utility Platform Supports
Windows Base Only:
Windows XP
Windows Server 2003
Windows 7
Windows Server 2008
Windows 8 (Must install latest version of WinPcap)
Windows Server 2012 (Must install latest version of WinPcap)

Operation Mode
TCP Server
TCP Client
UDP Client
Virtual COM
Telnet Server
Pair Connection – Remote (Slave)
Pair Connection – Local (Master)
Dimensions (W x D x H)
135 x 97 x 32 mm
Weight
ICS-2102 / ICS-2102S15 : 431g
ICS-2105A: 428g
Power Supply
12~48V DC / 24V AC, Redundant power with polarity reverse protection function
Power Consumption
Standby
12VDC: 0.34A(4.08w)
24VDC: 0.16A(3.84w)
48VDC: 0.09A(4.32w)

Full Load
12VDC: 0.48A(5.76w)
24VDC: 0.23A(5.52w)
48VDC: 0.13A(6.24w)
Installation
DIN rail kit and wall mount ear
Alarm
Provides one relay output for power failure
Alarm relay current carry ability: 1A @ DC 24V
Enclosure
IP30 metal case
Environment
Operating Temperature: -10~60 degrees C
Storage Temperature: -20~75 degrees C
Operating Humidity: 10~90% RH
Storage Humidity: 5~90% RH

Emissions
FCC Class A, CE Certification Class A
Standards
IEEE 802.3 10Base-T
IEEE 802.3u 100Base-TX / 100Base-FX
EIA/TIA RS-232/422/485
Regulatory Approval
RoHS
Stability Testing
IEC60068-2-32 (Free Fall)
IEC60068-2-27 (Shock)
IEC60068-2-6 (Vibration)
* Note: Reset Button on the front panel for resetting to factory default