POE-E101 - IEEE 802.3af Power over Ethernet Extender
Overview
Long Distance PoE and Data Extension Solution
PLANET POE-E101 is a newly designed and simple device which extends both the reach of Ethernet Data and IEEE 802.3af Power over Ethernet over the standard 100m (328 ft.) CAT5e/6 UTP cable to 200m, 300m or longer distance.

Currently, PoE supported networking devices such as PoE IP cameras, PoE wireless access points and PoE IP phones have become the mainstream of network deployment because of the convenience of easy installation regardless of additional power supply. However, limited by the UTP cable specifications, only up to 100 meters (328 ft.) of cable could be applied for IP-based and PoE powered devices (PD) installation. Therefore, the POE-E101 is designed as the repeater to forward both Ethernet data and PoE power, thus extending the range of the PoE powered device installation. By just plug and play but with no additional power supply or setup required, one single POE-E101 can increase the PoE range to 200m. By daisy-chaining multiple PoE-E101s, it offers you great flexibility to extend the distance of PoE network to triple or quadruple.


Providing PoE and Ethernet data extension ability, the POE-E101 is an ideal solution for service providers, campuses and public areas for networking application which requires PoE deployment of wireless access points, IP-based surveillance cameras or IP phones in any places. It enables you to centrally manage the power from one location easily, efficiently and cost-effectively.

The POE-E101 PoE Extender is quite easy to be installed by simple plug and play. It is used between a power sourcing equipment (PSE) and a powered device (PD); it injects power to the PD without affecting the data transmission performance. The POE-E101 offers a cost effective and quick solution to doubling the standard range of PoE from 100 to 200 meters. There are 2 RJ-45 ports in a compact mini box of PoE Extender, of which the IN port functions as "PoE (Data and Power) input" and the other port on the other side functions as "PoE (Data and Power) output". The "PoE OUT" port is also the power injectors which transmit DC voltage to the Cat5e/6 cable and transfer data and power simultaneously between the PSE and PD.
Features
• Complies with IEEE 802.3af Power over Ethernet
• Extends the range of PoE by an additional 100 meters (328ft.)
• Forwards both Ethernet data and PoE power to remote devices
• Automatically detects and protects PoE equipment from being damaged by incorrect installation
• Multiple units, daisy-chain installation support
• No external power cable required for installation
• Compact size, wall-mountable design
• Plug-and-Play
Applications
Long Distance PoE IP Surveillance

Is 100 meters cable long enough to meet a wide range of IP surveillance deployments? The answer is certainly not. To apply the benefits of IP surveillance and also to achieve long-distance IP camera distribution, the POE-E101 PoE extender, is a quick and cost-effective option besides adopting a PoE Injector or PoE Ethernet Switch equipped with fiber optical interface. In the simplest application, the POE-E101 enables a PoE IP camera to be installed up to 200 meters away from a PoE Injector. The PoE Injector delivers PoE power over the first 100 meters to the POE-E101 over UTP cable, and then the POE-E101 forwards the Ethernet data and remaining POE power to the PoE IP camera. The POE-E101 does not require an external power supply and can be installed easily by just plug and play, meaning the operator does not need to configure the POE-E101.

Long Distance PoE Wireless Access Point

When being used in wireless LAN implementations, the POE-E101 enables wireless access points to be connected using standard Cat5e/6 cable over 100 meters from the power sourcing equipment (PSE), such as PoE switch, PoE injector hub and single port PoE injector. The POE-E101 is also powered by the incoming PoE on the Ethernet cable and does not require an external power feed. The POE-E101 will reduce the usage of cables and eliminate the need of dedicated electrical outlets on the wall, ceiling or any unreachable place. It frees the security IP cameras and wireless APs deployment from restrictions of power outlet locations.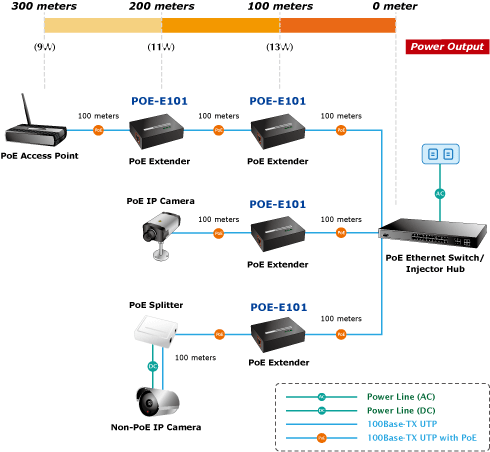 Specifications
Interfaces
LAN IN
1 x 10/100Base-TX Ethernet with IEEE 802.3af PoE "Data + DC" in
Auto MDI/MDI-X, auto-negotiation RJ-45 connector
LAN OUT
1 x 10/100Base-TX Ethernet with IEEE 802.3af PoE "Data + DC" out
Auto MDI/MDI-X, auto-negotiation RJ-45 connector

Power over Ethernet
PoE Standard
IEEE 802.3af Power over Ethernet
PoE Power Supply Type
Mid-Span / Type B
PoE Power Output
48V DC, 270mA, Max. 13Watts
Power Pin Assignment
4/5(+), 7/8(-)
Maximum Distance
Class 1 (3.8 watts): 300m
Class 2 (6.5 watts): 300m
Class 3 (12.9 watts): 200m
Non-PoE (Data): 300m
Hardware Specifications
Hardware Version
Version 2
Data Rate
10/100Mbps
Switch Architecture
Store-and-Forward
Switch Throughput
148810pps@64Bytes
Latency
7.840µs
Maximum Frame Size
1552Bytes
Flow Control
Back pressure for half-duplex
IEEE 802.3x pause frame for full-duplex

LED Indicators
1 x PoE IN (Green)
1 x LAN Data (Green)
1 x PoE OUT (Green)
Protection
ESD(Ethernet): 6KV
Surge (EFT for power) : 6KV
Dimensions (W x D x H)
94 x 70 x 26 mm
Weight
215g
Power Requirements
IEEE 802.3af compliant with voltage within 44V-56V DC
Power Consumption
2 watts (maximum)
Mechanical
Metal / wall mountable and optional DIN-rail kit for installation
Cable
TIA / EIA-568, Category 5/5e cable
Standards Conformance
Regulation Compliance
FCC Part 15 Class A, CE
Standard Compliance
IEEE 802.3 10Base-T Ethernet
IEEE 802.3u 10/100Base-TX Fast Ethernet
IEEE 802.3af Power over Ethernet PSE / Mid-Span
IEEE 802.3af Power over Ethernet PD / Mid-Span
IEEE 802.3x Flow Control

Environment
Operating
Temperature: 0 ~ 50 degrees C
Relative Humidity: 0 ~ 95% (non-condensing)

Storage
Temperature: -10 ~ 85 degrees C
Relative Humidity: 5 ~ 95% (non-condensing)