POE-E304 - 1-Port Ultra PoE to 4-Port 802.3af/at Gigabit PoE Extender
Overview
PoE Solution for Breaking RJ45 100m Limitation
PLANET POE-E304 is a 1-port 60W Ultra PoE to 4-port 802.3af/at Gigabit PoE Extender designed especially for point to multipoint PoE applications. The POE-E304 can obtain a maximum of 60-watt PoE power from Ultra PoE input port and supplies a maximum of 55-watt PoE power budget for four PoE output ports, extending both the Gigabit Ethernet Data and IEEE 802.3at/802.3af Power over Ethernet over the standard 100m (328 ft.) Cat. 5/5e/6 UTP cable to up to two 200m powered devices at the same time.

The POE-E304 provides a simple solution for adding PoE ports without running more cabling and achieves more flexible network applications without requiring an external power adapter.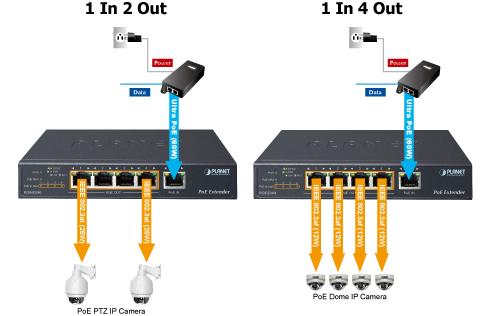 Plug and Play Installation
The POE-E304 is quite easy to be installed by simple plug and play. It is used between a power source equipment (PSE) and a powered device (PD). The POE-E304 injects power to the PD without affecting the data transmission performance. The POE-E304 offers a cost-effective and quick solution to doubling the standard range of PoE from 100 to 200 meters. The POE-304 is designed in a compact box containing five RJ45 ports, of which one "PoE IN" port functions as PoE (Data and Power) input and the other four "PoE OUT" ports function as PoE output. The "PoE OUT" port is also the power injector that transmits DC voltage over the Cat5/5e/6 cable and transfers data and power simultaneously between the PSE and PD.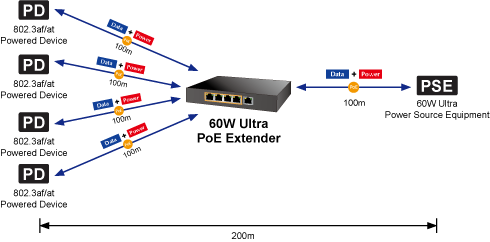 Features
Physical Port

5-port 10/100/1000BASE-T Gigabit RJ45 interface

- 1-port data + power input

- 4-port data + power output

Power over Ethernet

1-port data + power input

- Complies with ultra Power over Ethernet end-span and mid-span PD

- Complies with IEEE 802.3at Power over Ethernet Plus end-span / mid-span PD

- Supports PoE input power up to 60 watts

4-port data + power output

- Complies with IEEE 802.3af/IEEE 802.3at Power over Ethernet end-span PSE

- Up to 4 IEEE 802.3af/802.3at devices powered

- Supports PoE power up to 30.8 watts for each PoE port

- Auto detects powered device (PD)

Extends the range of PoE to an additional 100 meters (328ft.)
Forwards both Ethernet data and PoE power to remote device

Layer 2 Features

Hardware based 10/100/1000Mbps auto-negotiation and auto MDI/MDI-X
Integrates address look-up engine, supporting 2K absolute MAC addresses
9K Jumbo packet support
IEEE 802.1Q VLAN transparency
Features Store-and-Forward mode with wire-speed filtering and forwarding rates
IEEE 802.3x flow control for full duplex operation and backpressure for half duplex operation
Automatic address learning and address aging

Case and Installation

No external power cable installation required
Made of metal, desktop size design
Wall-mountable, Plug-and-Play installation
0 ~ 50 degrees C operating temperature
Applications
One Power Sourcing for Multiple Powered Devices Solution
Is 100-meter cable long enough for a wide range of IP surveillance network deployments? The answer is certainly not. To achieve the benefits of IP surveillance and the long-distance IP camera distribution, PLANET POE-E304 is quite a useful Gigabit PoE extender if users have most of their network already set up, and hope to expand network communications and overcome cable distance limitations offering connections to devices in locations where traditional networking does not allow.

Specifications
Hardware Specifications
Network Connector
PoE In Port
1 x 10/100/1000BASE-T Ethernet with Ultra PoE "Data + DC" in, auto MDI/MDI-X, auto-negotiation RJ45 connector

PoE Out Port
4 x 10/100/1000BASE-T Ethernet with IEEE 802.3at/802.3af PoE "Data + DC" out, auto MDI/MDI-X, auto-negotiation RJ45 connector
Data Rate
10/100/1000Mbps
Switch Architecture
Store-and-Forward
MAC Address Table
2K
Data Buffer
2Mbits
Switch Fabric
10Gbps
Switch Throughput
7.44Mpps @ 64 bytes
Jumbo Frame
9K
Flow Control
IEEE 802.3x pause frame for full duplex
Back pressure for half duplex
LED Indicators
PoE In Port
10/100 LNK/ACT (Orange), 1000 LNK/ACT (Green)
PoE Out Port 1 to Port 4
10/100 LNK/ACT (Orange), 1000 LNK/ACT (Green)
PoE-in-Use (Orange)
PoE Max. (Orange)
Protection
ESD (Ethernet): 6KV
Surge (EFT for power): 2KV
Enclosure
Metal
Installation
Desktop/Wall mountable
Dimensions (W x D x H)
160 x 92.5 x 28 mm
Weight
370g
Power Requirements
PoE In: IEEE 802.3bt or 4-pair 802.3at PoE+ compliant with voltage within 50V-56V DC
External DC: 50~56V DC
Power Consumption
4 watts/13.7BTU (System on with PoE input)
6 watts/20.6BTU (Ethernet full loading without PoE function)
60 watts/205.9BTU (Full loading with PoE function)
Network Cable
10BASE-T: 4-pair UTP Cat5 up to 100m (328ft)
100BASE-TX: 4-pair UTP Cat5 up to 100m (328ft)
1000BASE-T: 4-pair UTP Cat5e, 6, up to 100m (328ft)
EIA/TIA-568 100-ohm STP (100m, 328ft)
Power over Ethernet
PoE Standard
PoE In Port
Ultra Power over Ethernet end-span/mid-span PD class 4 PD
Per PoE Out Port
IEEE 802.3at Power over Ethernet Plus end-span PSE
IEEE 802.3af Power over Ethernet end-span PSE
PoE Power
PoE In Port
50~56V DC, max. 60 watts
Per PoE Out Port
44~55V DC, max. 30.8 watts
Power Pin Assignment
PoE In Port
1/2 (+), 3/6 (-); 4/5 (+), 7/8 (-) or 1/2(-), 3/6(+); 4/5(+), 7/8(-)
Per PoE Out Port
1/2 (+), 3/6 (-), end-span (Type A)
PoE Power Budget
50 watts (max.) @ Ultra PoE input
20 watts (max.) @ IEEE 802.3at PoE+ input
Standard Conformance
Regulatory Compliance
FCC Part 15 Class A, CE
Standard Compliance
IEEE 802.3 10BASE-T Ethernet
IEEE 802.3u 100BASE-TX Fast Ethernet
IEEE 802.3ab 1000BASE-T Gigabit Ethernet
IEEE 802.3af Power over Ethernet
IEEE 802.3at Power over Ethernet Plus
IEEE 802.3x Flow Control
Environment
Operating
Temperature: 0 ~ 50 degrees C
Relative Humidity: 5 ~ 95% (non-condensing)
Storage
Temperature: -10 ~ 70 degrees C
Relative Humidity: 5 ~ 95% (non-condensing)